Over the past few weeks, I have had many conversations with clients across a variety of industries. With the current state of the world, each business is handling sales and marketing strategies differently. Some clients are considered essential businesses while others are having to shut down, unable to operate until further notice. These conversations have gone in many directions, from business owners being in shock or denial while others are thriving and making money during this crisis.
The one thing that they all seem to have in common is the deep-down passion, motivation, and spirit to succeed no matter what it takes. The only delta in this equation is time. The Kübler-Ross Change Curve below is an interpretative visual that demonstrates the emotions over time in response to a shocking event. No matter where you are in the curve, knowing that there are different stages that you may go through can help you get through. Knowing that there is an uphill climb on the way, you will finally come to accepting and moving forward.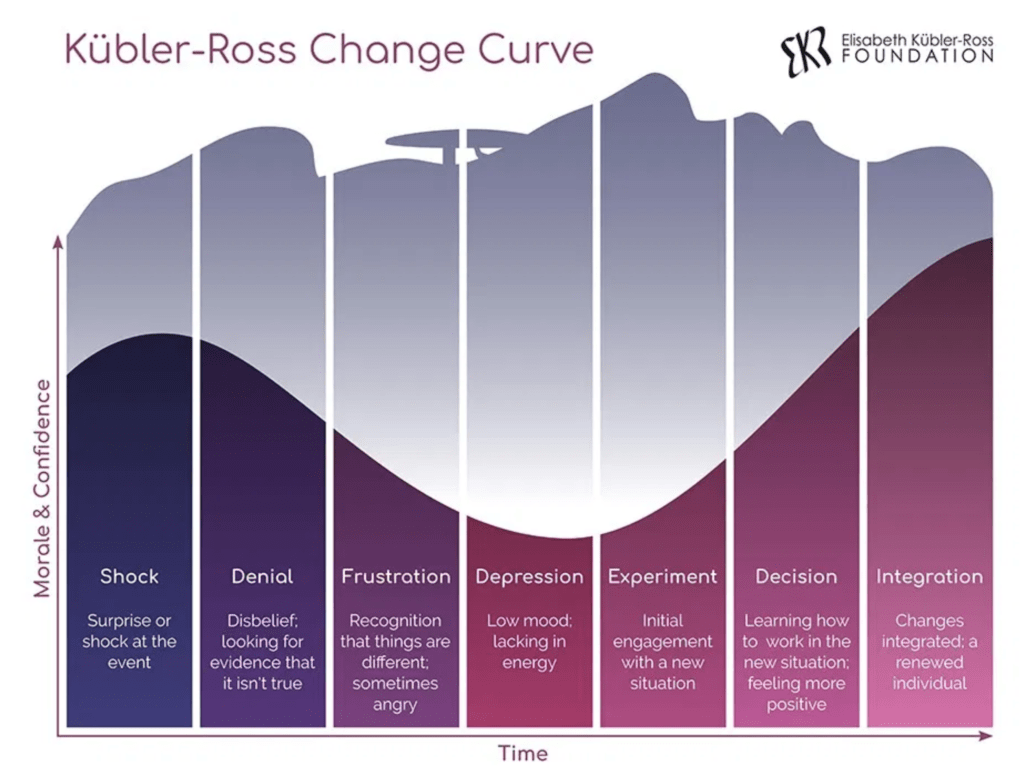 One of the most distressing facts to most business owners is that we don't know when things will go back to "normal." The unknown can be debilitating for some, thus causing them to shut down and not look to the future. It's important to find the motivation to power through and ensure that you'll be ready to open up with full force when the time is right.
One of the topics that I continue to hear from clients and other marketing professionals is, "should I pause or cancel my marketing?" Absolutely not! Unless you don't want your business to be around when this crisis is over. I'm not suggesting spending more and I'm not necessarily saying to spend the same. What I am saying is to be smart, be strategic, and adapt to what is going on now and how your business can benefit. How can your business change its messaging to stay in front of customers and potential customers?
One of our clients came to us and said that they were looking to cancel part of their digital marketing because they are a non-essential business, and their doors are temporarily closed. This client is in the home furnishings category. We went back to them and demonstrated that canceling now would put them behind and the potential for losing market share for when they reopen. Potential customers have more time than ever to be researching and browsing online and the client was looking to cancel. Even though nobody could shop from them now, potential customers were shopping online for when they could get back out and purchase and we want those customers to continue to think of you first, best, and most often in your industry. The client agreed and is marketing through this.
Now is the best time to think about your marketing. Continuing to show up at the top of Google search results, running ads on the radio, and posting on your social media keep you top of mind for consumers. While you may not be able to spend as much as you would like, there's nothing more rewarding than seeing a scrappy marketing strategy succeed. And we're experts at scrappy marketing.
To learn more about how Holland Adhaus can help you through this tough time, contact us! We're happy to help you navigate the unknown. Our services include:
Social Media
Digital Marketing
PR
Traditional Marketing
Websites
Google Ads
And more
Contact us today to level up your marketing strategy.
Level Up Your
Marketing Strategy