If you were to describe your company's brand, what would you say? Would you refer to your logo, your tagline, your brand standards? Ultimately, your brand is a collection of elements that distinguishes your product or service from another. When your customers or clients leave an interaction with your business or your content, how do they feel? Brand development is a crucial process for every business.
The first step of successful brand development for businesses is having a strong visual identity. This can include your marketing materials, website, and internal and external communication. Your branding should be consistent across all platforms in order to be impactful. 
The Brand Development Process
At Holland Adhaus, we focus on your brand's visual identity. Our four-step process helps us determine your exact needs and develop the brand story that best defines your business. 
During the Discovery phase of the branding process, we first get to know you, your business, and your needs. Are you looking to develop specific parts of their visual identity, or completely overhaul your current brand and do something new? 
If you are looking to develop a tagline, formalize brand guidelines, or identify a consistent color palette, then you are interested in specific elements of branding. In this process, we learn what you want to change or add to your already-defined brand. For example, you may already have a logo, but you need help developing how that logo should be used. This could include business cards, letterhead, or on new signage for your building. 
If you're interested in completely overhauling your current brand and starting from scratch, then you want a full rebrand. This process could involve more in-depth meetings, market research, and additional brainstorming sessions to come up with the right visual elements for you.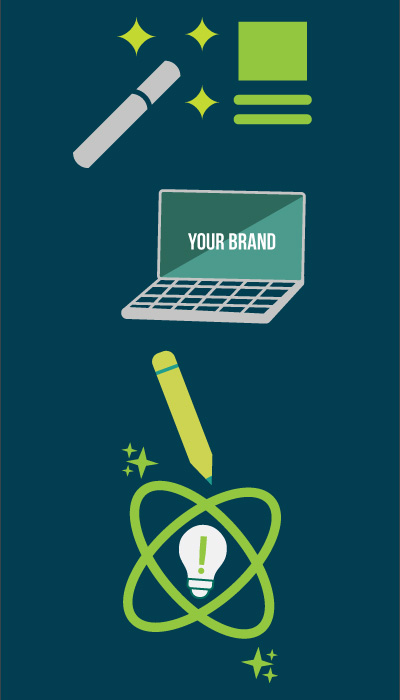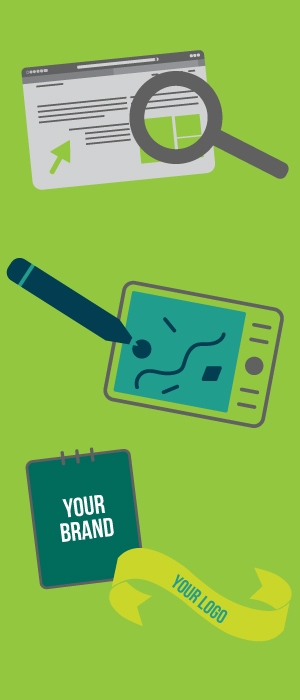 We are all about transparency. Before we begin designing any elements for your business, we develop an estimate and scope of work to ensure everyone is aligned on the project deliverables. We will work with you to determine your needs and to meet your end goals. 
This is the exciting phase where we get to determine your visual identity! Depending on the deliverables we agreed on in the previous phase, we may develop the following elements: 
Market research

 

Logo development and design

 

Name generation
Tagline development

 

Development of brand guidelines, standards, and story

 

Style guide development detailing communication, tone, voice, and writing style
Creation of additional assets to add to brand library (iconography, illustrations, photography, and videography)
Website development
Step Four: Implementation
Once all deliverables have been created, the last step is to implement them within your business. This can include printing materials and delivering them to you, launching a new website, or simply sending you a new logo. 
Your Brand is More Than Your Visual Identity
At Holland Adhaus, we provide the visual elements to help you solidify your brand identity. However, it's important to remember that your brand is more than your logo, your website, and your colors. Your brand is how your customers feel about you, and you have to live out the image you want to convey. At the end of the day, your brand is not made up solely of what you look like – it's who you are. 
Contact Us for More Information
If you're interested in any of our branding services, don't hesitate to reach out for more information. Our team is ready to help you take your business to the next level.
Level Up Your




Brand Development